Must See Destinations along the Mediterranean Coast
Those of us who are not fans of cold, winter weather are already dreaming of warm, sunny destinations, and what better place to dream of than the Mediterranean coast. Summertime along the Mediterranean is a road-trip planner's dream, as all destinations are connected by gorgeous roads and beautiful scenery. Read our list of must-see destinations for some inspiration to plan your visit to Europe.
Though many of the larger towns along the coasts may be seasonal, some of the businesses and hotels in smaller villages may be closed entirely during the off season. Keep this in mind and book your accommodations in advance to make the most of your road trip along the Mediterranean. To reserve your short-term car lease for your drive on the coast, click here. With no one-way fees and 28 locations across Europe, booking your transportation through Auto France's Open Europe program is more convenient and more cost-efficient than a traditional long-term rental.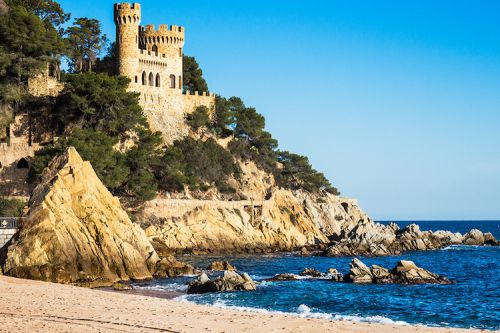 Coastal towns in Spain
With its longest coastline on the Mediterranean Sea, Spain is a prime destination for travelers looking to enjoy a relaxed lifestyle. Between ancient towns, cultural sites, and some major cities, the coast is dotted with beautiful coves and picturesque beaches. The 1,300 kilometers of coastline from Gibraltar in the south to Girona in the north-east can be driven in 12 hours through the regions of Andalusia, Murcia, Valencia, and Catalonia. Towns along the Spanish Mediterranean coast are most often referred to by "costas", most notable of which include the Costa Brava in Catalonia, Costa Daurada and Costa Blanca in Valencia, and Costa del Sol in Andalucía.
Must see towns in Spain: Costa Brava: Lloret de Mar, Platjas de Treumal, and Santa Christina; Costa Daurada: Tarragona; Costa Blanca: Torrevieja, Alicante, and Benidorm; and Costa del Sol: Marbella, Malaga, and Nerja
Reach the coast of Spain from Barcelona, Madrid, or Lisbon.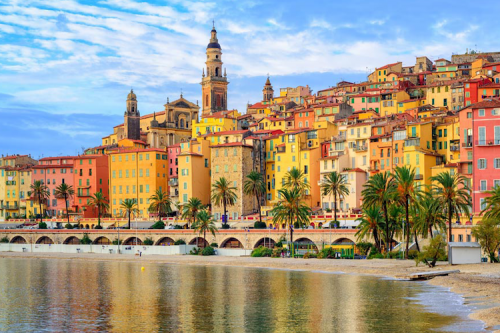 Coastal towns in France
France has eight hours-worth of coastline from the border of Spain to the border of Italy. The region is famously known for the Cote d'Azur or the French Riviera, and for good reason. From glamourous resort destinations to quaint port towns and all of the seemingly countless hidden coves and beaches in between, they all have one thing in common: a love for sunshine and swimming in the crisp, clear water of the Mediterranean. Depending on preference, travelers can choose to soak up the sun from a sandy or pebbly beach, whereas other areas of coastline are jagged and rocky and have built-in wooden decks to be able to easily access the water. Though there are some private, closed-off areas exclusive to club members along the coast, there are easily thousands of public beaches available to whoever is able to snag a spot near the water first.
Don't miss these towns along your drive through the south of France: Cassis, Villefranche-sur-mer, Antibes, Monaco, and Menton
To start or end your trip to the South of France, consider reserving your short-term lease in Montpellier, Marseille, or Nice.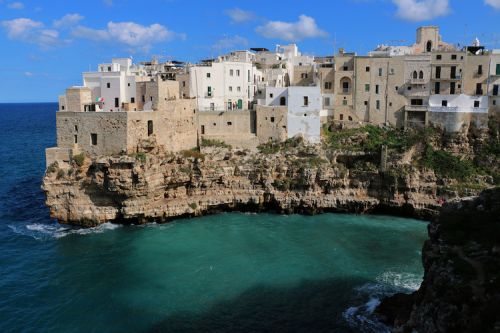 Coastal towns in Italy
Italy has the most coastline of any European country on the Mediterranean (over 7,600 kilometers), and is a dream destination for drivers visiting the region. Italy's coasts are home to diverse landscapes, geographical formations, and ancient historical landmarks. As if the beauty of Italy wasn't inviting enough, visitors are drawn by the warm hospitality, the delicious food, and the arguably unbeatable lifestyle. With plenty of options to choose from, the regions most often frequented by travelers and native Italians alike include Portofino and Cinqueterre in the north-west, and Positano and the Amalfi coast toward the south. Destinations that have been somewhat of a gem hidden by locals and are becoming increasingly more and more popular with foreign travelers are the coastal towns in the region of Puglia, including Lecce and Polignano a Mare.
Must-see coastal towns in Italy: Cinqueterre, Positano, the Amalfi Coast, Polignano a Mare, and Lecce
Reach the coasts of Italy from Rome or Milan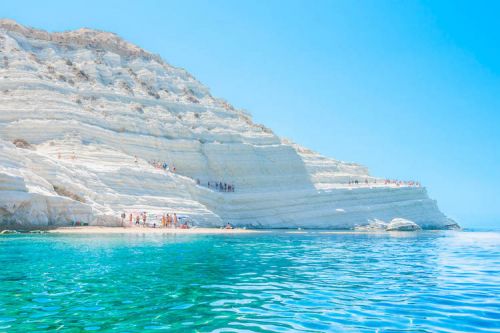 Coastal towns in Sicily
Though it is part of Italy, the island of Sicily demands a visit of its own. Operating with a different energy and atmosphere, the volcanic island feels more rugged, quaint, and agricultural. Sicily's drier climate and volcanic soil also produce unique wines on family-owned vineyards. Most of the island is within a few kilometers of the coast, and offers stunning views from many of Sicily's hillsides. With a rich history as a prized strategic location for ancient empires, Sicily is home to well preserved ruins and walled cities along its coasts. When traveling in a car, Sicily can be reached by ferrying across a short channel, with estimated travel time only 5 hours from Naples and 7 hours from Rome.
Must see towns in Sicily: Cefalu, Taormina, Scala dei Turchi, and San Vito Lo Capo
Planning your road trip is easy with Auto France's convenient lease terms, including no one-way drop-off fees and considerable savings when compared to a traditional car rental. Click here to learn more about the Auto France Open Europe Program and start planning the road trip of your dreams today.
Categories
Subscribe To Blog
Enter your information below to start receiving the latest news and helpful travel tips from AutoFrance and the world of Peugeot.
Share This